What are Employee eNPS Surveys?
Employee eNPS surveys are an industry-standard way of measuring the engagement or loyalty of your employees. It's a measure that's used across most of the large and successful companies to show managers what's working to improve employee engagement.
Employee engagement surveys (someimes called Employee Opinion Surverys (EOS) or Pulse Surveys) use the same question and scoring framework as NPS. The question 'On a scale of 0-10 how likely is it that you would recommend this company as a place to work?'.
Many companies send out employee engagement surveys on a regular monthly, quarterly or yearly schedule.
SightMill offers specialist features to support eNPS surveys by email - to ensure anonymized responses.
An eNPS email uses the same framework and features as a standard NPS survey. with one important difference for employees: SightMill supports a switch to anonymize responses - a key feature for a trusting survey.
Why use Employee eNPS Surveys?
These are a great way of finding out how your employees feel about your company; it helps managers change and improve problem areas or facilities or benefits and helps drive a loyal, committed team who will promote the firm and so help attract talented new hires.
A secondary use of employee surveys is as part of the HR process - you might want to improve your interviewing or understand why people leave the company, so could use an eNPS survey for these specific reasons.
What do Employee eNPS Surveys Look Like?
An eNPS email asks just one question ('On a scale of 0-10 how likely is it that you would recommend this company as a place to work?') and allows the employee to choose a score between 0-10.
This is then followed with a second question asking why they gave this score, allowing the respondant to write any verbatim comments.
SightMill provides eNPS survey template and (unlike standard NPS) the responses are anonymized and are not linked to the respondant's email.
A typical eNPS survey email displayed in MS-Outlook: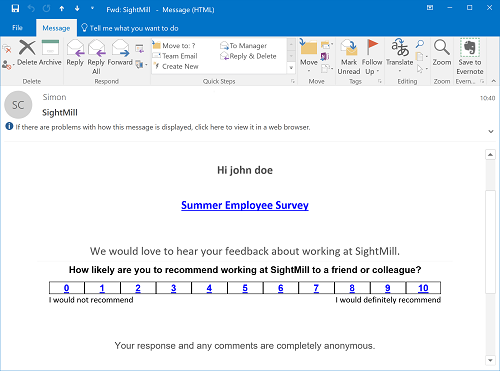 How do I Get Started with Employee eNPS Surveys?
1. Create a new contact list and upload your employee's email data into this contact list (we support standard CSV files that can include the contact name, details of department, and their email address).
2. Define your schedule to send out survey emails to the contact list - sending out an email monthly, quarterly or yearly. You can set the time and schedule.
3. Make any adjustments to the email template to support your company's color scheme and any text changes.
That's all there is to it.
The Results
SightMill manages the process of sending out emails automatically, recording scores and verbatim responses. If you have created rules to alert your teams about feedback, these are processed in real-time.
Start Now
We offer a range of accounts that support eNPS surveys. You can upgrade/downgrade at any time to suit the number of surveys you need to send out per month (see pricing plans). Create a free account now to try out SightMill, then upgrade to Email when you're ready.