What are Email-based NPS Surveys?
Email-based NPS surveys let you send a Net Promoter Score (NPS) survey by email to a group of contacts. You decide the schedule, you can personalise the email and SightMill manages the rest.
Why use Email-based NPS Surveys?
This is a great way to ask customers for feedback about your product or service; for example, it's a good way to regularly ask for feedback from users of your online products; it's also greate for asking for feedback after delivering a service; or ask for feedback after a customer receives your physical (offline) product; or ask for feedback about your premise, shop or store.
What do Email-based NPS Surveys Look Like?
An NPS email asks just one question ('Would you recommend this product to your colleagues') and allows the person reading the email to score 0-10.
SightMill comes with a range of pre-designed email templates. You can add your own logo, change the email colors and change the subject line. SightMill embeds the scoring within the email.
To improve response rates, the score is recorded as soon as the person clicks on their score within the email. They don't need to leave their email software to record their score. If you use the normal follow-up question ('Why did you give us this score'), then the respondant is automatically taken to a form with this question on the SightMill website.
SightMill's email surveys are quick to setup using pre-defined templates, provide great response rates and are easy for respondants to use from a mobile smartphone, desktop or any standard email software.
Survey email displayed in Gmail: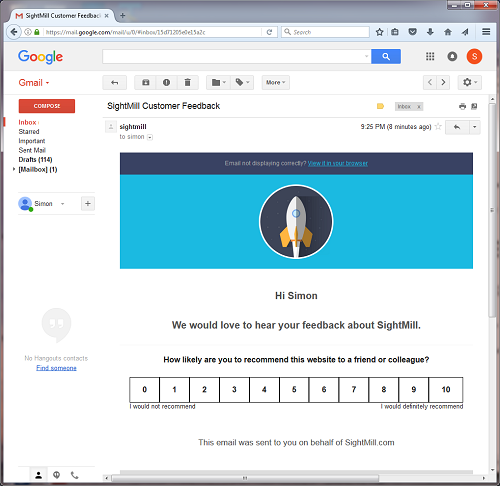 How do I Get Started with Email-based NPS Surveys?
Creating an email NPS survey is very straightforward using SightMill. With just three steps, you'll have a tailored email ready to go to your contact list to your schedule. Here's how:
1. Create a new contact list and upload your email data into this contact list (we support standard CSV files that can include the contact name, details of your products the contact use, and their email address.
2. Set a schedule to send out survey emails to the contact list - sending out an email every hour, day, week or month.
3. Edit the email template with your color scheme and any text changes.
That's all there is to it.
The Results
SightMill manages the process of sending out emails automatically, recording scores and verbatim responses. If you have created rules to alert your teams about feedback, these are processed in real-time.
Start Now
We offer a range of Email-based accounts to suit your requirements and you can upgrade/downgrade at any time to suit the number of emails you need to send out per month (see pricing plans). Create a free Web-based NPS account now to try out SightMill, then upgrade to Email support when you're ready.