September 2019
Budgeting for a customer satisfaction software is not always straightforward. You know you want to achieve a better understanding of the drivers to improving customer experience, but what are the costs of different features and how can you compare products to make the right choice? You might not know exactly how many customers you want to survey each month, or which channels to use, or if email is better than SMS. And then the web team ask if they could add surveys as well.
One of the problems is that many software products do not publish prices, so you have to ask for a quote and it's hard to compare different platforms.
To help you, we've put together this guide to how to calculate your budget for customer satisfaction software. We'll take you through all the costs you need to factor in and cover the process step by step, including:
Deciding on whether you'd like specialist software or an add-on module
Identifying your internal user base
Work out the number of surveys you'll need
Deciding which features you need
Looking at different formats and channels
Establishing implementation costs with your vendor
1. Do you need specialist NPS survey software or general purpose software?
Some larger CRM and customer service software vendors, like HubSpot, Zoho, Salesforce and Zendesk offer NPS tracking features as an add on to their usual feature set.
If you're with any of these companies, you might be wondering whether you should take them up on that - why wouldn't you, when it's:
Quicker and easier - setup costs are next to nothing
Cheaper - in some cases, the add on is even free of charge
In a nutshell, it's all about expertise. Specialist software is exactly that - specialist. Typically, you'll have a more advanced feature set to play with, a support package that is tailored specifically to one niche area, and a provider who really understands the detail required when tracking customer feedback.
For example, there are several general-purpose survey platforms that offer 'NPS' surveys – but these are on a scale of 1-10, which is not the standard 0-10 scale used in Net Promoter Score methodology.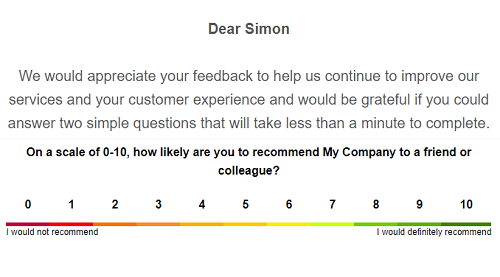 Although it is convenient to use the features built into your helpdesk or CRM, they could be limited on formats (do they only support email; can you tailor the emails), and you're unlikely to see the sentiment analysis tools or be able to aggregate the results onto one dashboard.
It's hard not to be tempted to use the built-in tools to get started, and that's perhaps a good way of approaching the solutions: as an introduction to the process to gauge if your customers and company is ready for a full roll-out. If you do go with an add-on, make sure you can export the data in case you switch to a specialist platform (and, obviously, make sure your future platform can import data!).
Specialist customer satisfaction software doesn't have to be expensive – there are plenty of products available for all budgets, with basic-level packages starting at around $20 per month. So, unless your existing provider offers you a really good deal, or you have your heart set on an on-premise solution for some reason (practically all customer survey software is cloud-based), it's really worth considering a specialist solution.
2. Identify who in your teams will use the feedback software
One of the ways many platforms use to differentiate pricing is user licensing: how many different people in your organisation can have an account. This, in turn, will depend on how big your company is, who you envisage being involved in the NPS process and how much access they will need.
If you're a small company or a start-up, people typically wear many hats. Your email marketer might also do analytics, social and basic design work, or your CEO might also be a one-person customer service department, for example. Larger companies might want an overall admin user, plus give all frontline customer-facing staff a login.
Your starting point for users will likely be one marketing user and one customer experience user (if you're thinking of employee feedback, then you're likely to have one user for your HR Director and one for the HR admin team as a minimum). From here, you can build up your user base from the following, depending on availability/need:
Design/branding/UX representatives: your emails will get a lower response rate if they are badly designed, or if customers can't identify that they come from your brand
Product manager: essential for getting any product-based improvements you identify a need for
Sales executive: many organisations want the sales team to have immediate access to customer feedback, especially before visiting a customer.
Customer service: the natural key stakeholders who should be able to access the platform and act one feedback as it arrives
Project manager: if you want to put serious effort into improving your NPS score, a PM is the way forward, particularly in larger companies where you really need someone to enforce deadlines and make sure key tasks are completed
Directors (either product, sales, marketing, or HR): will want an overview of their customer base or employee base to understand sentiment.


Who needs access to your customer survey software, by company size
| | |
| --- | --- |
| Company size | Potential User Base |
| <10 employees | 2 people with marketing and/or customer experience focus |
| 10-100 | Users from marketing, sales, customer service, product, design/branding/UX, HR, directors |
| 100-500 | Email marketer, analytics expert, sales execs, customer service team, customer experience expert, product manager, design/branding/UX expert, project manager, HR, directors |
| 500+ | As in the 100-500 bracket, but scaled up in accordance with demand |
One thing to bear in mind: unlike some other SaaS solutions, customer feedback software isn't typically priced on a per-user basis. Instead, vendors usually offer a set number of users per package.
This means that if you only need a couple of users but want an all-singing, all-dancing set of features, you might have to make an difficult compromise by either paying extra for users you won't need or cutting back on some of your requirements (here at SightMill, all the plans have all the features, making this decision easier).
3. Consider the number of surveys you expect to send
Almost all survey software differentiates its plans according to the number of surveys you can send per month. Customer satisfaction survey software is no different and you will find that platforms offer plans that provide for between 250-50,000 surveys per month.
The good news is that whatever your requirements, you'll be able to find a platform that supports the number of customers you need to reach.
The bad news is that it can be complicated to try and compare platforms, since each offers slightly different survey limits. Our suggestion is to look at the following three key elements:
Can you change your plan month-by-month (for example to allow you send 1000x surveys every month except for March and September when you would like to send 5,000x in each month)?
Does the survey quota cover all formats (for example, if you have a quota of 5000/month will this allow you to send 1000x surveys by email, 3000x surveys on your website and 1000x surveys by SMS)?
If you sign-up to one plan, can you easily move to another plan?
If you find that your provider locks you in to a yearly contract or does not allow you to change plan, then you need to be very careful about assessing your survey requirements.
The simplest way to calculate your requirements is to check the number of customers you would like to survey, decide how often you would like to ask for their feedback (perhaps every three months), and then if you would like to run any additional feedback channels on, for example, your website or after they contact customer support.
As a calculated example:
You have 3000x customers and would like to send them an all email survey every month.
You would like to run a monthly employee engagement survey for your employee base of 200x staff
You receive 300x calls to your customer support team every month and you would like to send them a feedback survey after each call.
Email survey requirements = 3000 x surveys every month = 3000 x surveys per month
Customer support team = 300 x calls per month = 300 x surveys per month
Employee engagement surveys = 200 x email surveys per month
Total requirement is 3,500 x surveys per month
4. Identify which NPS survey features you need
Once you know who needs access to your new software, you can start thinking about the features your organisation needs.
To do this, you'll need to conduct a thorough requirements analysis. This is an entire process in itself, and probably worthy of its own article - but for reference, here's a quick guide to tackling this in a medium or large organisation which will have many different departments and stakeholders::
Identify your key stakeholder groups. These will be the same as the users you identified in the last step
Ask them about the features they need. Be very clear at this point that they might not get everything they ask for.
Discuss these requirements with stakeholders and create a 'must-have' and a 'nice-to-have' list of features. This will take time and possibly a good deal of compromise, so be patient.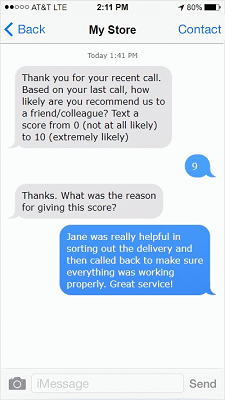 Be thorough, and don't rush. If you put the time in here you'll have a much clearer idea of what you need to budget for. If you don't, expect confusion and project overruns at the demo stage, as well as potentially costly customizations further down the line.
This brings us to the features themselves. As discussed above, customer satisfaction software vendors typically offer a choice of bundles, starting with a basic-level package for a small number of users and working up. Obviously, these will vary from vendor to vendor, but here is a rough outline of what can expect, divided into entry-level and advanced features:
Typical basic customer feedback software features
Support for one survey channel (typically email, though some providers will let you opt for web or SMS surveys instead)
Send up to around 1000 surveys per month
Up to five users
Basic integrations (Zapier, Slack and Zendesk are very common) and export to CSV/Excel spreadsheet
Typical advanced customer feedback software features
Support for multiple channels
Send over 5000+ surveys per month
More than five users per month upwards
Custom email template designs
Data segmentation and advanced analytics
Text-based analytics and comment tagging
More integrations and API access
SightMill takes a different view – we include all the features, all the survey channels and integrations and we differentiate by the number of surveys you send per month.
Package prices for basic, standard and advanced feature sets
The big question, of course, is how much money this translates to. Use the table below to get an idea of how much you'd need to spend.
| | | |
| --- | --- | --- |
| Plan | Range | Average |
| Basic | $0-$99 / month | $34 / month |
| Standard | $40 - $199 / month | $83 / month |
| Advanced | $99 - $500 / month | $207 / month |
*Data taken from a survey of the major customer survey and NPS software vendors
SightMill aims to provide great value for money to help you implement customer experience management within budget, so we define the lowest price points in each range.
Check out our pricing here
.
Can I find free customer survey software?
Short answer, 'yes'.
Longer answer, 'yes, but be prepared to compromise'.
Whilst free software packages might seem a good idea for very small companies, or those just starting to explore the benefits that tracking your NPS score has to offer, they typically offer limited feature sets with a very strict cap on the number of survey responses you can process (think 400 a year, in some cases).
By compromising like this, you aren't necessarily giving yourself the best chance of really improving your NPS score. There's only so much you can achieve with the features offered, and you could end up pouring time and effort into it with no concrete results.
If you want to explore the possibilities of NPS software but aren't ready to make a financial commitment,
why not try a free trial instead
? There's no financial commitment, and you'll get a much better feel for the features available and the benefits they offer.
5. Implementation costs of Net Promoter Score software
Once you've figured out how much you're willing to spend on the software itself, you'll need to factor in implementation costs too.
The good news is that because customer satisfaction software is relatively easy to install and affects a relatively small proportion of your workforce, these tend to be lower than those for other types of software.
Because these can vary so much with your requirements, vendors tend to shy away from publishing figures for these publicly. This means it's super important to discuss these with potential vendors and ask for a personalized quote before signing on the dotted line.
To make sure your quote is as accurate as it can be, provide potential vendors with as much detail as possible about:
What sort of training you want, and how many people for
The amount of customer data you'll need to upload
Any integrations you need building
Any other customization you need
What implementation costs can I expect for customer satisfaction software?
Broadly, implementation costs fall into two categories:
Training resources (in-person teaching sessions, screen-share seminars or e-learning modules
Implementation services (data import, setup, integrations, and customising)
To make your budget as accurate as possible, you may also need to factor in a few hours of overtime pay as your team experiences a temporary slowdown during the implementation.
6. And finally...flexibility
You are likely to have a fixed budget but you might not know exactly how many surveys you want to send each month, you might not have authority to sign an annual deal, you might want to try different survey channels.
So look for a survey vendor that can offer flexibility. This could mean very flexible contract (the best would be a month-by-month contract where you can change your plan every month), the worst would be tied in to an annual contract.
Flexibility of survey channels: will you end up paying more if you decide to try out SMS surveys for a few months? And if you integrate with your CRM to save time, will it actually cost you more as a feature add-on?
The team behind SightMill have spent years as customers so know how frustrating it is if you're locked in to long-term contracts. We therefore offer month-by-month contracts that let you change your plan anytime. And all of the plans include all the features and channels, so no nasty surprises.